Welcome to TRD Las Vegas!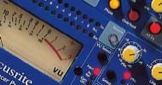 We design and service professional audio equipment for recording studios, live concert sound and theatrical performances.

Thermal Relief Design, Inc. (TRD) with a collective experience of over 60 years in the design, installation and repair of professional audio systems is the exclusive factory authorized service center for ATC, Antelope Audio, Audient, Blue Sky, Daking, Drawmer, MC2, SPL Electronics, Tube-Tech, and XTA Electronics in North America. In addition we provide factory authorized service for all of the Avid/Digidesign Control Surfaces, including the new Icon and Venue consoles. And we also are now part of the TC Group Service Network providing warranty service for TC Electronics, TC Helicon, Lab Gruppen, DynAudio, and Tannoy. Other manufacturers who trust us to service their products are Allen & Heath, Focusrite, Turbosound, Korg, Soundcraft and Yamaha Pro Audio.

TRD also boasts extensive knowledge and experience in the repair and fine tuning of guitar amplifiers. We provide factory authorized service for a number of amplifier manufacturers including Ampeg, Ashdown, Blackstar, Crate, G-K, Line 6, Marshall, Mesa-Boogie, Hartke, and Vox. Vintage tube amps such as Ampeg, Fender, Marshall, and Hiwatt are one of TRD's specialties.
Our expertise does not stop at standalone units. Over the last 25 years, we have installed, refurbished, or provided maintenance on numerous large format consoles including vintage Neve and SSL systems. Our technical accomplishments involve a range of studios – from private suites to full scale music and television production locations.
If we can provide quality, professional audio service for you – contact us at info@thermalrelief.com.