TWITTER
TUBE-TECH Service
Despite conflicting info you read on the internet, TRD is the ONLY AUTHORIZED WARRANTY SERVICE CENTER in the US for TUBE-TECH equipment. We can make all your TUBE-TECH gear work just like the day you bought it no matter how old it is !!! Contact Erika at Ext. 306 for details.
Viva ELVIS
Cirque du Soleil's newest Las Vegas Production – Viva ELVIS playing at the Aria Resort and Casino in MGM's brand new City Center has contracted TRD to maintain their guitar amps for the run of the engagement. In order to recreate that original Elvis tone and vibe from the '60's the players are using amps by Wizard Amplification, Divided by 13, Orange Amplifiers, Harp Gear, and Fender. This has proved to be a daunting task liaising with these boutique amplifier manufactures and stocking the esoteric tubes and parts for their upkeep.
Tony's Tech Page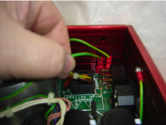 Have you ever wondered how to take apart a Focusrite Red Series unit without it falling into pieces? Or how to tell if a Red 3 has transformers without removing the cover? Be sure to check out Tony's Tech page, where he reveals all the secrets.